I'M SO FASCINATED BY THIS SKILLFULLY, ARTICULATING DESIGNER THAT I NEED TO SHARE MORE PHOTOS AFTER SEEING THE EXHIBIT AT THE MET TWICE. AND I PLAN TO GO AGAING…. HE JAR IS CONSIDERED THE FABERGE OF THE MOMENT… I MUST ADMITT I AGREE, THESE PHOTOS ARE WONDERFUL BUT THE TRUE BEAUTY IS GETTING THE CHANCE TO BE "UP CLOSE & PERSONAL" IF YOU CAN COME ON OVER, YOU WON'T BE DISAPPOINTED I PROMISE.
BELOW AN ARTICLE BY BARBARA AMIEL THAT SHOWS YOU WHAT THE EXHIBIT LOOKS LIKE AND SOME HISTORY TO BOOT.
Bedazzled by the gems of JAR
His jewellery puts the glitter on the glitterati. As a stunning new exhibition opens, Barbara Amiel talks to the elusive Joel Arthur Rosenthal
We can say a few things with certainty about Joel Arthur Rosenthal, also known as JAR,
the Parisian jeweller whose exhibition opens at the Gilbert Collection in Somerset House
tomorrow. He is 59 years old, an only child born in New York City. He has lived in Paris for most of his adult life, after studying art history and philosophy at Harvard. He has enjoyed a personal and business relationship with his partner Pierre Jeannet for the past 25 years. And every night of this past week has seen somewhere in London packed with glitterati partying in his honour.
There is scarcely a woman alive who wouldn't kill to have his jewellery - once she has seen it. It is said that about only 250 women in the world, including Elle Macpherson, assorted Rothschilds, Barbara Walters, Gwyneth Paltrow, and covens of Parisian and New York society matrons actually possess a piece.
His jewellery shop is in the passage to the left of The Ritz hotel, off Place Vendôme. The shop has no display windows, nothing to indicate what happens inside that perfectly blank exposure, but slowly, other jewellers have gravitated to the lane. To open JAR's door, you need an introduction from someone he knows, another client perhaps, or have a name like Guinness that brooks no confusion.
His jewellery is expensive. A ring set with two pigeon's blood rubies that had once been buttons on some maharajah's tunic, surrounded by a diamond pave heart, costs £200,000. A necklace of three strands of small natural pearls, lustrous, beautifully matched and suspended from links of pave diamonds, is £275,000. The Somerset House exhibition will be selling four styles of limited edition JAR earrings in aluminium and gold for £250. A snip, but not JAR's usual one-of-a-kind.
After these facts, it all gets a bit more muddled. Rumours abound. Rosenthal, it is said, is a rude man who makes arbitrary decisions about the clients crossing his threshold. He told so-and-so that her dress was awful, another that her perfume was unpleasant. He sent the children of a client out of his shop. Some of these tales are false, some exaggerated, some true.
Disputes about the assessment of his work continue. He is the Cartier of our time, says Christie's, who are sponsors of the exhibition. They believe his jewels are investments that will appreciate in value, like objets by Faberge. Others say his work is too difficult to wear or that the designs are not always flattering to the wearer.
"His women looked weighed down by those huge butterfly brooches or the lilacs and coral," said one connoisseur of jewellery, requesting anonymity. No one talks about Rosenthal except under conditions of anonymity. Even his own clients, who have donated their jewellery for the exhibition, have asked for anonymity to the point that at least half of the exhibits can't even be photographed, let alone attributed.
The exhibition has 400 pieces, of which perhaps close to one fifth are masterpieces. Any serious artist from Coleridge to Picasso needs a body of work to set off his truly exceptional pieces and this is Rosenthal's body of work. His jewellery does not depend on big stones and very rarely on white diamonds. He uses violet sapphires, amethysts, green garnets so beautiful you never want to see emeralds again.
JAR does flowers in bud, flowers opening, flowers blooming - and flowers fading. The fading flowers look exactly like that - wilting and on the point of death - which may be an acquired taste. His gems are usually set in titanium, platinum, silver, steel and white gold. "I like grey, white and silver," says Rosenthal, explaining why there is not very much yellow gold in his work.
The Man Known as JAR
Joel Arthur Rosenthal affects to be known by a single name: JAR (no periods). His shop in Paris' Place Vendôme has no display window, no regular hours. It does not advertise and opens its doors to only a select few, including Elizabeth Taylor, Elle Macpherson, Barbara Walters, Ann Getty, Mary Pinault and Jo Carole Lauder (and reportedly Marie-Josée Kravis, Marella Agnelli and Princess Firyal of Jordan).
According to a report by
Forbes
, the craftsmen in Switzerland and France who make is jewelry produce only 70 to 80 pieces a year, each of them one of a kind and many designed with a particular buyer in mind. JAR reserves the right to refuse to sell an item if he doesn't think it will look good on the intended wearer. His creations often sell for twice what the first buyer paid.
Rosenthal graduated from Harvard in 1966, then moved to Paris. He dabbled first in scriptwriting, then needlepoint, opening a tiny shop where he experimented with unusually colored yarn. Its clientele included designers from Hermès and Valentino. Rosenthal one day was asked if he could design a mount for a gemstone. That sent his career in a new direction. After a brief stint as a salesman at Bulgari in New York he returned to Paris in 1977 and started designing pieces that relied at first on inexpensive stones like coral, moonstone, and minute colored diamonds.
He focused on pavé, a technique for setting small stones so close together that they look paved with jewels. His settings are so finely wrought as to be virtually invisible, and gradations of color progress from subtle to vivid. Unlike other jewelers, he uses a dark metal alloy for the settings to highlight the gems' color.
Only twice has Rosenthal displayed his jewels to the public, most recently in London in 2002. Four hundred pieces lent by 145 JAR faithful were crowded into small vitrines. He insisted that the lights be dimmed and that flashlights be given to his guests, who groped and gaped their way from case to case.
Considering how hard hit the Beverly Hills community now is by the current economy, you just might find the unthinkable, a JAR piece in a high-end pawn shop. If you do, and happen to have an unusually large amount of money to spare, a JAR piece would certainly be a glamorous piece to add to your investment portfolio.
Joel Arthur Rosenthal may be the master jewelry artisan of our era, and yet you have probably never heard of him. Before you start feeling bad to have overlooked him, don't bother: his mass obscurity is entirely by his own design. Which is not to say he's wallowing in ignominy. Rather, Rosenthal's name is perhaps the best kept secret of the world's very rich and very famous.
A Contemporary Fabergé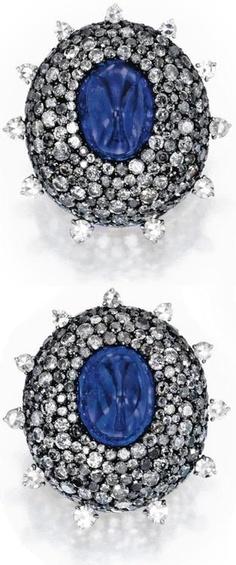 Blackened silver, 18k gold, sapphire, and diamond earrings by JAR, Paris via Diamonds in the Library
Working under the moniker JAR, this mysterious Bronx-born recluse has been described as the modern-day Peter Fabergé by Diane Von Furstenberg. A Harvard grad, he got his start as an aspiring screenwriter, then dabbled in a number of other career options before landing–serendipitously–in the jewelry business.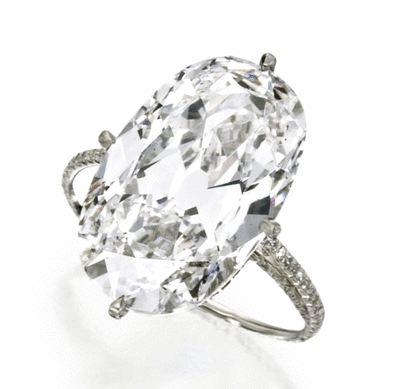 Diamond 'String' Ring
Over the past 30 years, JAR's renown artistry has given him unparalleled status among the celebrity set and industry elite. He keeps shop in Paris with no signage, display or operating hours, and the doors are open only to the upper echelons of high society: Elizabeth Taylor, Ann Getty, and Jo Carole Lauder are among the fashionable few who have been granted rare access. With workshops in Switzerland and France, JAR produces less than 80 one-of-a-kind pieces a year, most of which are custom designed with a particular person in mind, often according to his whim. And potential buyers beware: if JAR doesn't think a piece suits you, he reserves the right not to sell it to you.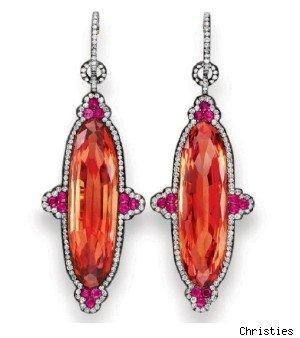 Ellen Barkin's JAR earrings, via Christie's
JAR is most lauded for his extraordinary work with pavé; he typically sets vibrant gemstones against his own custom dark metal alloy for striking contrast. And while fine jewelry often loses value when it changes hands, JAR's museum-worthy work is so coveted that it can double in value when resold. Not that it happens very often, as a JAR piece of wearable art is generally considered one of its owner's most prized possessions.
JAR jewels below are from Christie's May 2012 "Jewels for Hope" auction of Lily Safra's collection.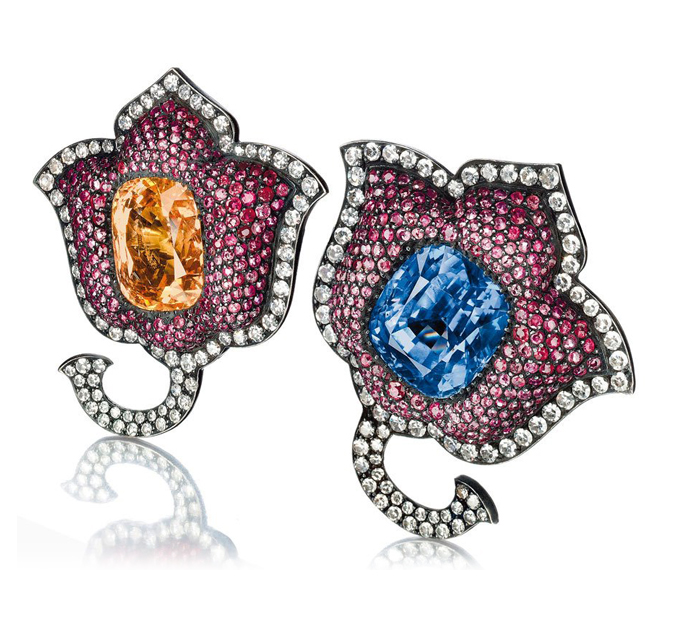 JAR sapphire, ruby, and diamond Moghul tulip ear clips • Sold for $275,168 at Christie's in May 2012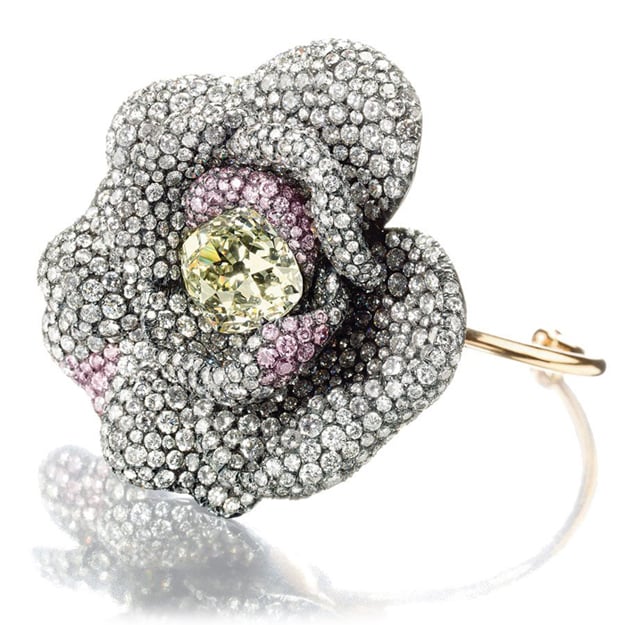 JAR diamond camellia flowerhead bangle bracelet • Sold at Christie's in May 2012 for $624,792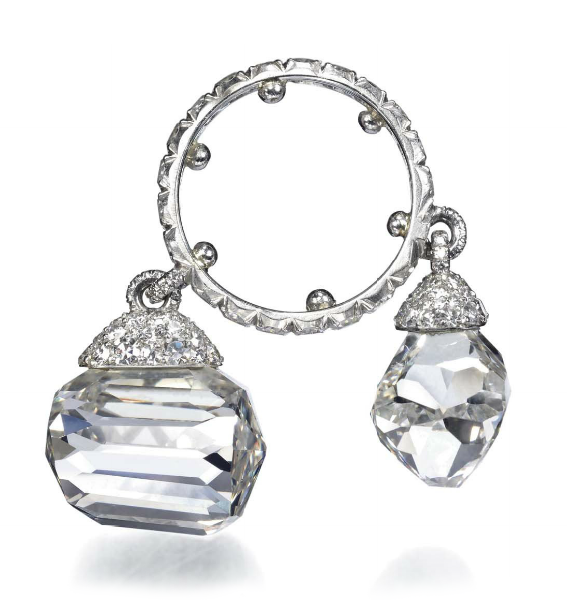 JAR diamond charm ring with two taviz-cut diamonds weighing 16.98 and 15.31 carats • Sold for $974,417 at Christie's "Jewels for Hope" auction